Grief Support Groups
Support of others makes a difference
Often the stories and caring of others going through grief can ease your own grief journey.
Our trained volunteer leaders provide a safe, accepting setting where your thoughts and feelings are welcome. You share only what you are comfortable sharing. During eight weekly sessions, you will explore the grief process and discuss many related topics.
The support you recieve, and the support you share with others, can help in healing. We hope you will join us.
Individual Support
If you are in need of support, we would be happy to set up individual support with one of our trained Bereavement Volunteers. Please call us at 667-2531 for more information. Often, those who receive individual support will join a group later. We are here to support you through your grief journey.
If you would prefer to wait for a group and would like to be on our mailing list, please email us at 

[email protected]

. We would be happy to add you to our list.
Grief Support Groups Starting in September
Spouse and Partner Loss Grief Support Group (Zoom)
September 26 – November 14, 2023
Tuesdays, 1:00 – 3:00 p.m.
General Grief Support Group (In-person)
September 28 – November 16, 2023
Thursdays, 1:00 – 3:00 p.m.
HVHC Office, 14 McKenzie Avenue, Ellsworth, ME 04605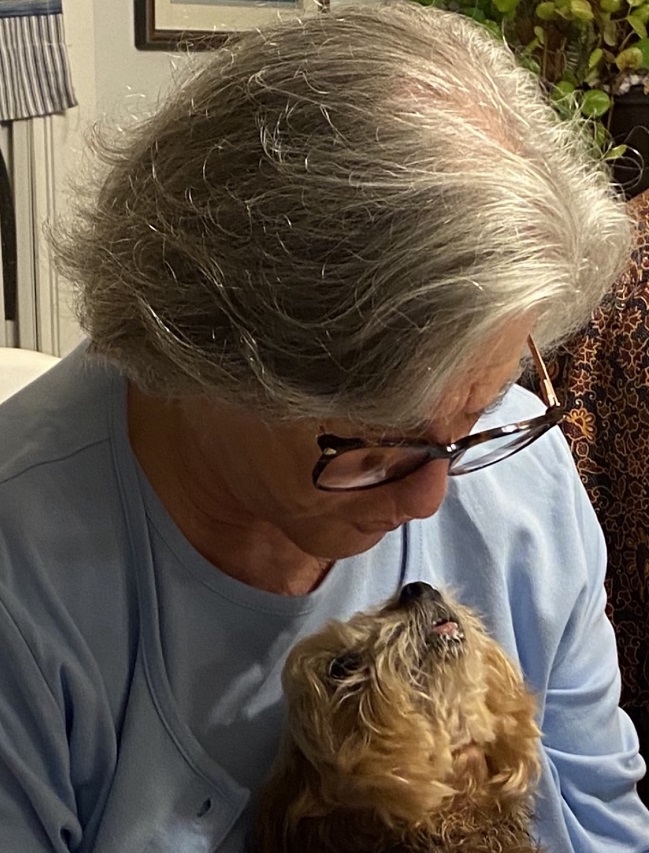 Babs McNulty, Bereavement Volunteer, with Beloved Friend, Manny
"There are few experiences in life that can compare with being a part of the most personal journeys people can go through. They come into our support groups feeling devastated, alone in their grief, and worried about what their next path will be. By the end of just a few sessions, they feel connected to the group members in a unique friendship, and most of them continue with these friendships for many years to come. It is always a privilege to play a role in the process of moving forward from heartache to living."